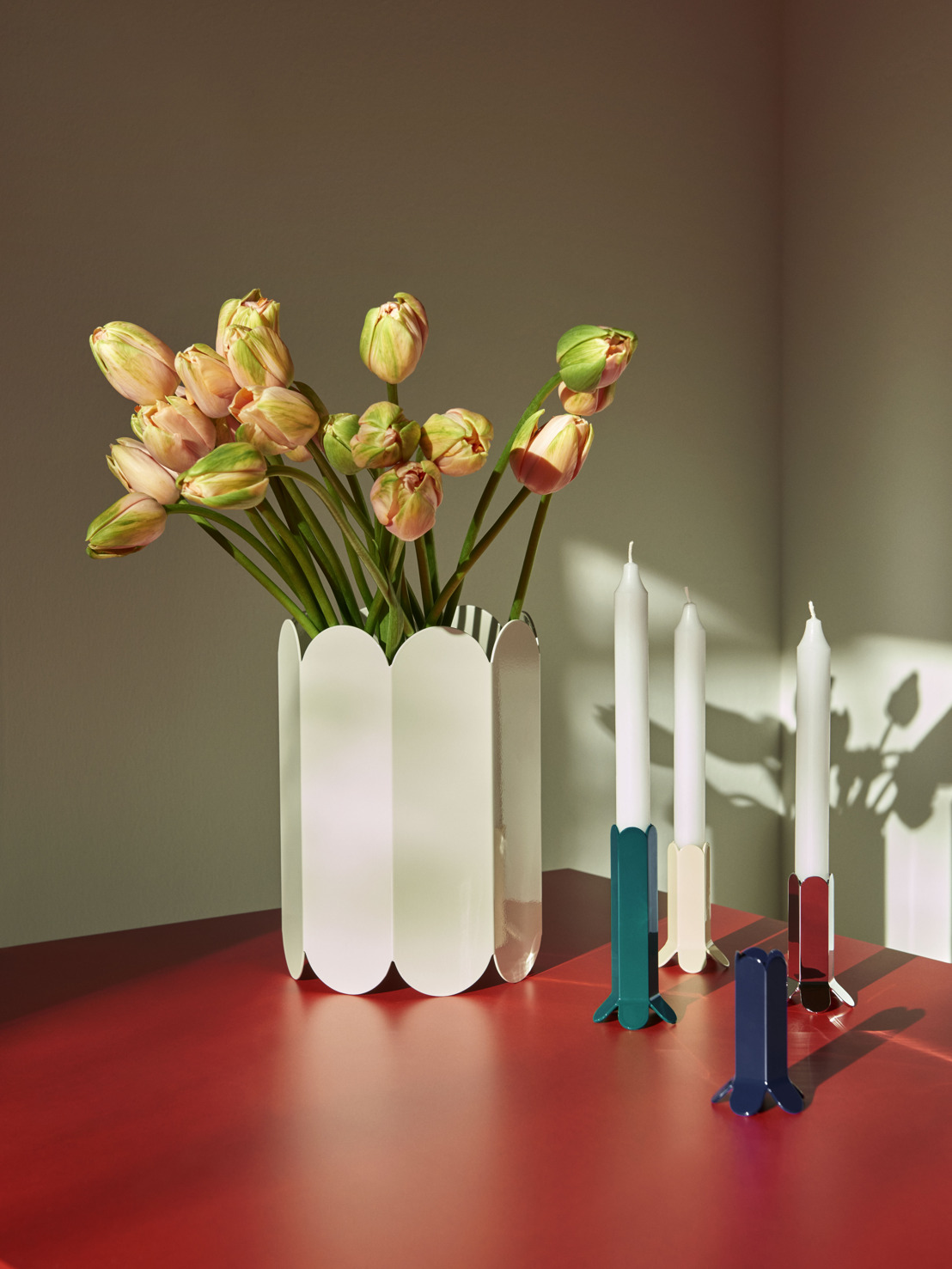 Belgian duo Muller Van Severen join HAY's designer family.
Muller Van Severen for HAY
Monday 16 August 2021 — With a range of beautiful and practical products launching across HAY's Lighting, Furniture, and Accessories Department in Autumn 2021, the Danish design brand is excited to announce the addition of renowned Belgian design duo Muller Van Severen to the HAY designer family. Seeking to enable a wider demographic of customers to have access to the exquisite designs of this beloved pair and to bring a touch of Muller Van Severen home with them, HAY has worked with Muller Van Severen to create an exciting collection at an affordable price. Celebrated around the world for their minimal elegance, they bring their eye for colour and their affinity for simplicity that eschews the ordinary to a range of HAY items. The Arcs Vase, Arcs Candleholder and Arcs lighting are available in stores in August. The Two-Colour Table is available in stores in November.
"The collaboration with HAY is the perfect occasion for us to offer our work to a wide and also to a young audience," says Muller Van Severen. "We carry the same passion as Mette and Rolf Hay, which was very important in the creation of these objects. Our shared values informed the development process and research significantly as we all sought to stay true to elements we consider to be essential, such as authenticity and sensitivity, even though our items for HAY are produced at larger quantities than other Muller Van Severen designs." - Fien Muller and Hannes Van Severen
Two-Colour Table
First up, the elegant and minimalist Two-Colour Table table illuminates the best qualities of its two constituent materials, highlighting the strength of steel, which is used for the legs,and the vividness of coloured MDF, which is used for the table top. While steel is more industrial in its nature, the coloured table tops are tactile and characterized by an almost paper-like texture - Two-Colour Table brings them into harmony.
As with most of Muller Van Severen's work, colour is a stand-out element of the table, existing here as a material in and of itself: rather than simply being applied to the surface, it emanates directly from the materials itself, in this case coloured steel and coloured MDF. A range of colour combinations allow these tables, available in round and rectangular formats, to take on entirely different characters and fulfill a variety of aesthetic needs and styles.
"We think the Two-Colour Table has no layers, and nothing to hide. It is made simply from pure material, brought together." - Fien Muller and Hannes Van Severen
Arcs Series
Next are a series of products in a new family designed by Muller Van Severen for HAY, Arcs. Made from one stainless-steel sheet with rounded edges at the top and bottom, the edges are joined together to produce a scalloped silhouette. Each product in the Arcs family is simple in its material but beautiful and complex in its expression, as with much of Muller Van Severen's work.
The Arcs Shade, which is available both as a table/floor lamp and as a pendant, creates atmospheric gestures and patterns of light and offers a gentle and poetic illumination as light is softly projected from both ends of the lamp.
Sharing the shade's poetic signature shape, the Arcs Vase and Arcs Candleholder are similarly sculptural, and the elegant scalloped frame becomes a spatial volume that encloses a vase or a candleholder.
Any flower bouquet will look stunning when displayed in the vase, thanks to its strong yet visually soft character. The same is true for the Arcs Candleholder, which is solid while being light in its appearance.
All products in the Arcs family are available with either a mirrored or a coloured surface, and the candleholder is available in two heights.
____________________________________________
All imagery, both packshots and lifestyle pictures, is available in the HAY Image Bank which you can visit via the following link. Kindly note that all assets are under embargo until August 16th unless agreed otherwise.