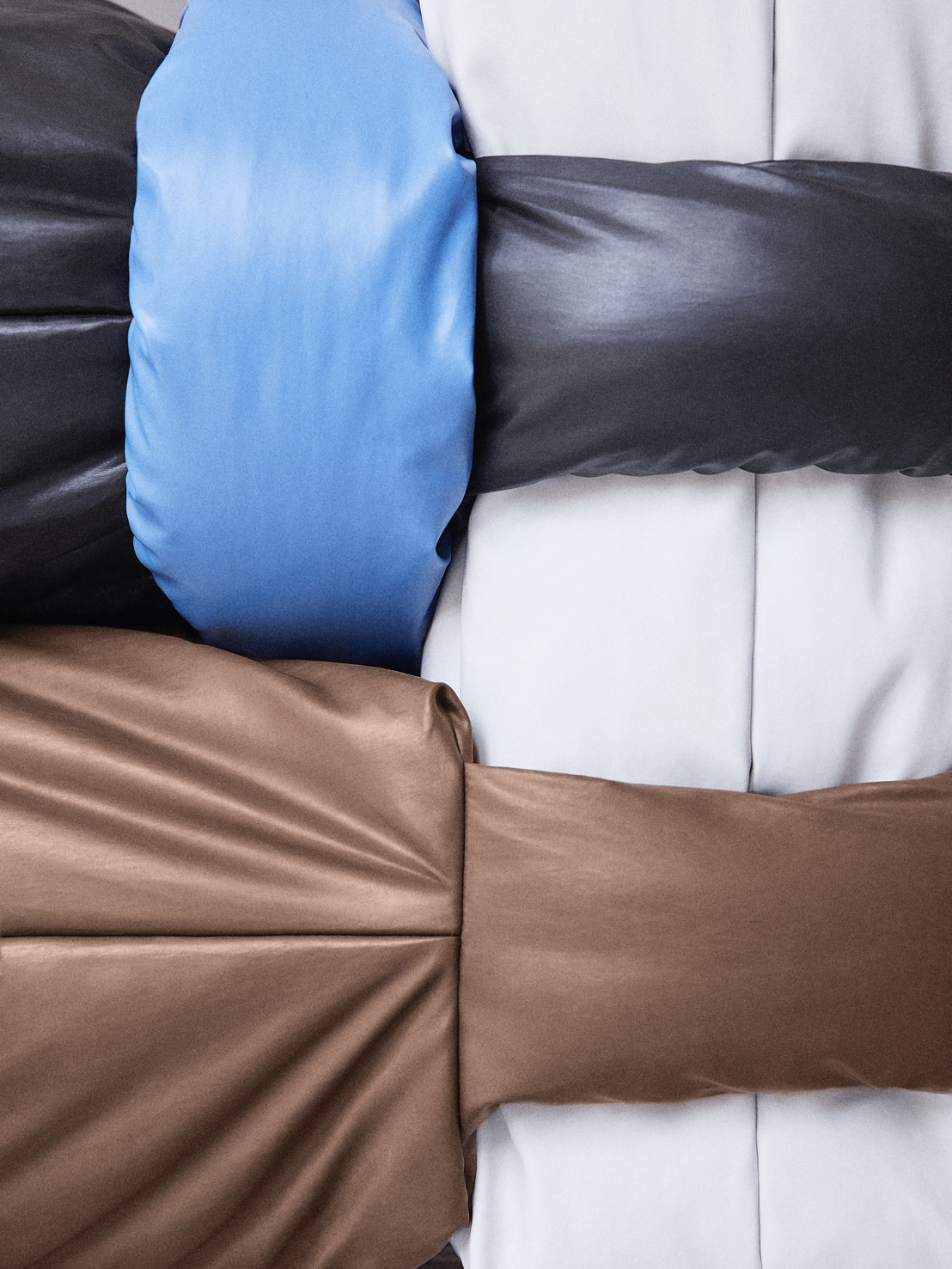 Muller Van Severen create 'The Pillow Sofa' for KASSL Editions
Wednesday 1 July 2020 — KASSL Editions and the Belgian designer duo Muller Van Severen are proud to introduce 'The Pillow Sofa'. A creative collaboration sparked within the context of Wallpaper* Re-Made project, an initiative to connect the brightest creatives and manufacturers to re-imagine, re-think- and re-create the world's surroundings into smarter and more sustainable ones.
Hannes Van Severen and Fien Muller are the driving force behind one of the most image-defining European design teams of today. Their quest for reinventing furniture objects inclusive of the space, architecture, art and materials started in 2011 and has led them to partner up with Andreas Murkudis in Berlin, The Apartment in Copenhagen and collaborate with luxury labels such as Hermès.
The first edition of Pillow Bags was presented by KASSL in 2019 and rapidly became a fashion must-have, praised for its soft design, bold colours, and resistant material. Indestructible and made to wear like all garments from KASSL, the bags are manufactured in Germany with cream of the crop fabrics from Italian supplier Limonta and each bag is numbered for authenticity.
Intrigued and inspired by the functionality and the straight forward and appealing character of the original KASSL Editions Pillow Bags, Hannes and Fien took on the challenge to create a series of highly covetable design seating.
Available in two different seating formats, frontal and corner, the sofa resembles multiple Pillow bags puzzled together to evoke and create a soft yet bold seating area.
Developed using the original white, black and camel oil fabrics of Limonta, Muller Van Severen added penetrating colourways of green, navy and sky blue. The Pillow Sofa presents itself with modular seatings that either stand alone or can be paired for a strong visual impact.
The Pillow Sofa is available for purchase via Graanmarkt 13, Muller Van Severen, KASSL Editions and at selected retailers.
ABOUT Muller Van Severen
Muller Van Severen was founded in the early Spring of 2011. With both Fien Muller and Hannes Van Severen being artists, it's natural that the collection sits somewhere between design and art. The couple has been on an inspired quest for sculpturally interesting furniture objects, always including the space around it, and characterized by a careful research into their shared passion for art, architecture and materials. At the same time Muller Van Severen's designs appear to be created almost intuitively and with total effortlessness. It looks as if the designers draw with crayons in space.
After winning countless awards and collaborating with prestigious museums (such as Vitra Museum, Centre Pompidou and Musée d'Art Decorative Paris) and galleries (Galerie Kreo, Side Gallery, Valerie Traan Gallery) worldwide, Muller Van Severen is considered to be one of the most image-defining European design teams of today. Their creations are globally identified in both private homes and public spaces. All of Muller Van Severens own production pieces are handmade by small-scale fabricators and skilled artisans, with an honesty to the rawness and irregularity of the chosen material.
ABOUT KASSL Editions
The trump card to every KASSL creation, is the outstanding cut, created by and for real people with a real love for quality. The shapes are so democratic that they fit everyone, transcending styles, times, genders and generations.
KASSL editions was founded in 2018, when a collective of fashion-literate friends from around Europe were brought together by an old fisherman's coat.
From experience, we know that a strong technical character contrasts nicely with luxury, so we select the best of fabrics from around the world. Whenever possible, we opt for dead stocks from prestigious factories which are then handled by family-run factories within Europe and India. By following production closely, we are dedicated towards working together to keep improving the sustainability commitment of KASSL.
A KASSL is made by people, for people.
ABOUT Graanmarkt 13
Graanmarkt 13 is an unusual house in Antwerp in which every floor tells a story. Under just one roof, you will find a store, a restaurant and guest accommodation. It is a crossover venue packed with surprises, with a relaxed and friendly atmosphere. The minute you walk through the door, you will feel more like a guest than a customer.
Graanmarkt 13 is a wonderland dreamed up by its inventors, Tim Van Geloven and Ilse Cornelissens. They are the masterminds and gut feeling behind everything that happens at Graanmarkt 13. Tim and Ilse believe in doing everything just a little differently. Their welcoming oasis of inspiration is an extension of their own lifestyle: a microcosm that reflects how they experience the world. It mirrors everything they believe in, from a unique partiality to lovely things to an affinity with craftsmanship and sustainability. Tim and Ilse wish to bring their guests into contact with everything in which they take a special delight.
Graanmarkt 13 does not sell trends, but fashion and collector's items that will last a lifetime. This store, which extends over two – and sometimes three – floors, brings together leading fashion, design and beauty brands as well as their avant-garde counterparts. Their offering varies regularly, and includes labels such as Lemaire, Sofie D'Hoore, Santa Maria Novella, Lobmeyr and Susanne Kaufmann. Tim and Ilse search for and select everything personally. Everything you will see at Graanmarkt 13 has, at one time or another, passed through their hands. They know the history behind every object, and will be more than happy to share this with you.
Contact [email protected] for more information, visual materials and/or interview requests.