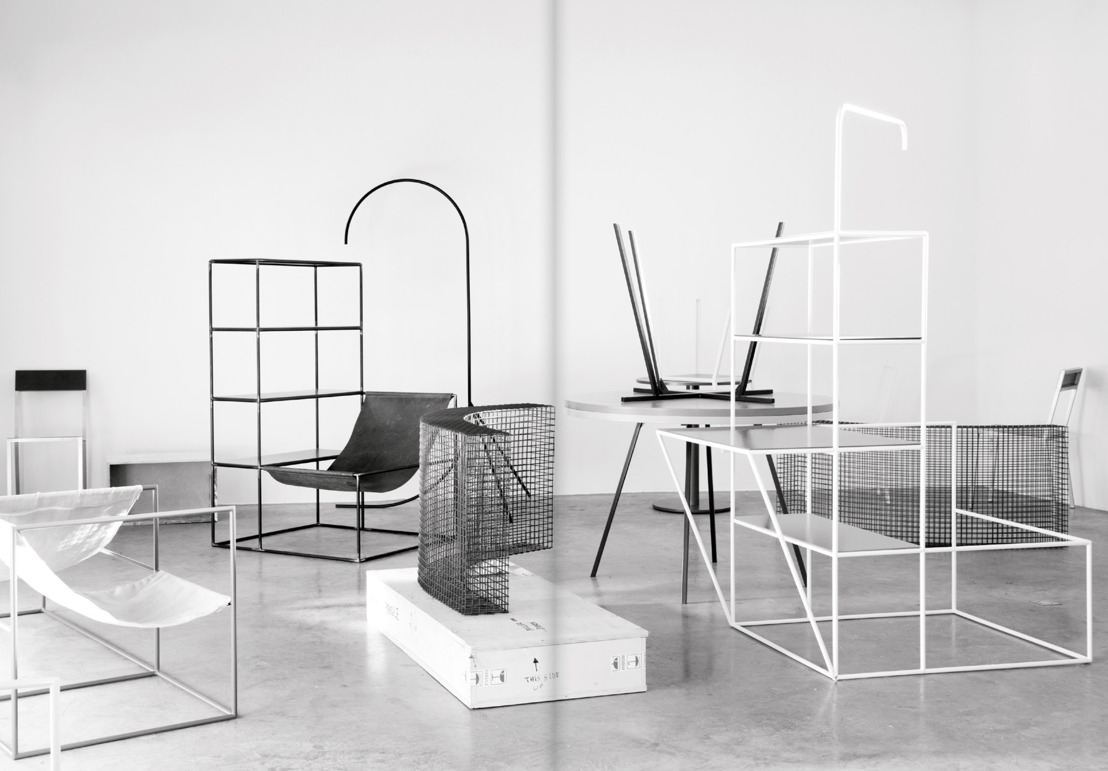 Muller Van Severen celebrate tenth anniversary with new book
Muller Van Severen. Dialogue
Monday 25 October 2021 — A new book entitled Muller Van Severen. Dialogue (2021, Walther Koenig) will be launched on the occasion of Muller Van Severen's tenth anniversary. Using conversations and visual references, this publication goes in search of the origins and complexity of the DNA of the Belgian design duo's oeuvre. Curator Jan Boelen explores their universe through a series of interviews with them, with curator and critic Beatrice Galilee, and with architects Arno Brandlhuber and Sam Chermayeff in a book carefully designed by Atelier Sven Beirnaert. The book was pre-launched at the new exhibition at Design Museum Gent '10 Years Muller Van Severen. In Dialogue with the Collection', and will be available in bookstores worldwide from the end of October.
Muller Van Severen, the Ghent designer duo of international acclaim, are celebrating their tenth anniversary in 2021. Fien Muller (1978) and Hannes Van Severen (1979) have been working on an inspiring oeuvre of furniture and other objects, on the interface between design and sculpture, since 2011. They are considered to be amongst the most image-defining designers of the moment.
In addition to the book, Muller Van Severen are celebrating this first decade with their first major exhibition in their hometown Gent. The exhibition presents a stimulating dialogue between pieces from the museum's collection and their own work. In addition, they will present their progress referring to ten key figures who helped determine their path. It will be the last exhibition in Design Museum Gent before it closes for approximately two years. Find out more on '10 Years Muller Van Severen. In Dialogue with the Collection'.

MULLER VAN SEVEREN. DIALOGUE
Verlag der Buchhandlung Walther und Franz König
TEXT / EDITOR Jan Boelen
BOOK DESIGN Atelier Sven Beirnaert
PUBLISHED ON October 2021
FINISHING hardcover canvas
FORMAT 18,5 x 25,5 cm
PAGES 460
ISBN 978-3-96098-972-1
LANGUAGE English
PRICE 49,80 €
Please request a PDF via [email protected]
Please send your order to:
Verlag der Buchhandlung Walther und Franz König
[email protected]

ABOUT MULLER VAN SEVEREN
Sculptor and photographer Fien Muller (1978) and sculptor Hannes Van Severen (1979) have been working together as design duo Muller Van Severen since 2011. They live and work in Ghent, Belgium.
Muller Van Severen's work is included in collections of several museums, such as Centre Pompidou, Musée des Arts Décoratifs and Centre National des Arts Plastiques (CNAP) in France, Vitra Museum in Germany, and Design Museum Gent in Belgium. Their work is presented by renowned galleries, including Galerie Kreo in France, Gallery Valerie Traan in Belgium, Andreas Murkudis in Germany, and exhibited in Massimo de Carlo in Italy amongst others. Along the years, they have collaborated with a number of brands, such as Valerie_Objects, Reform Copenhagen, KASSL Editions, Kvadrat and Hay.