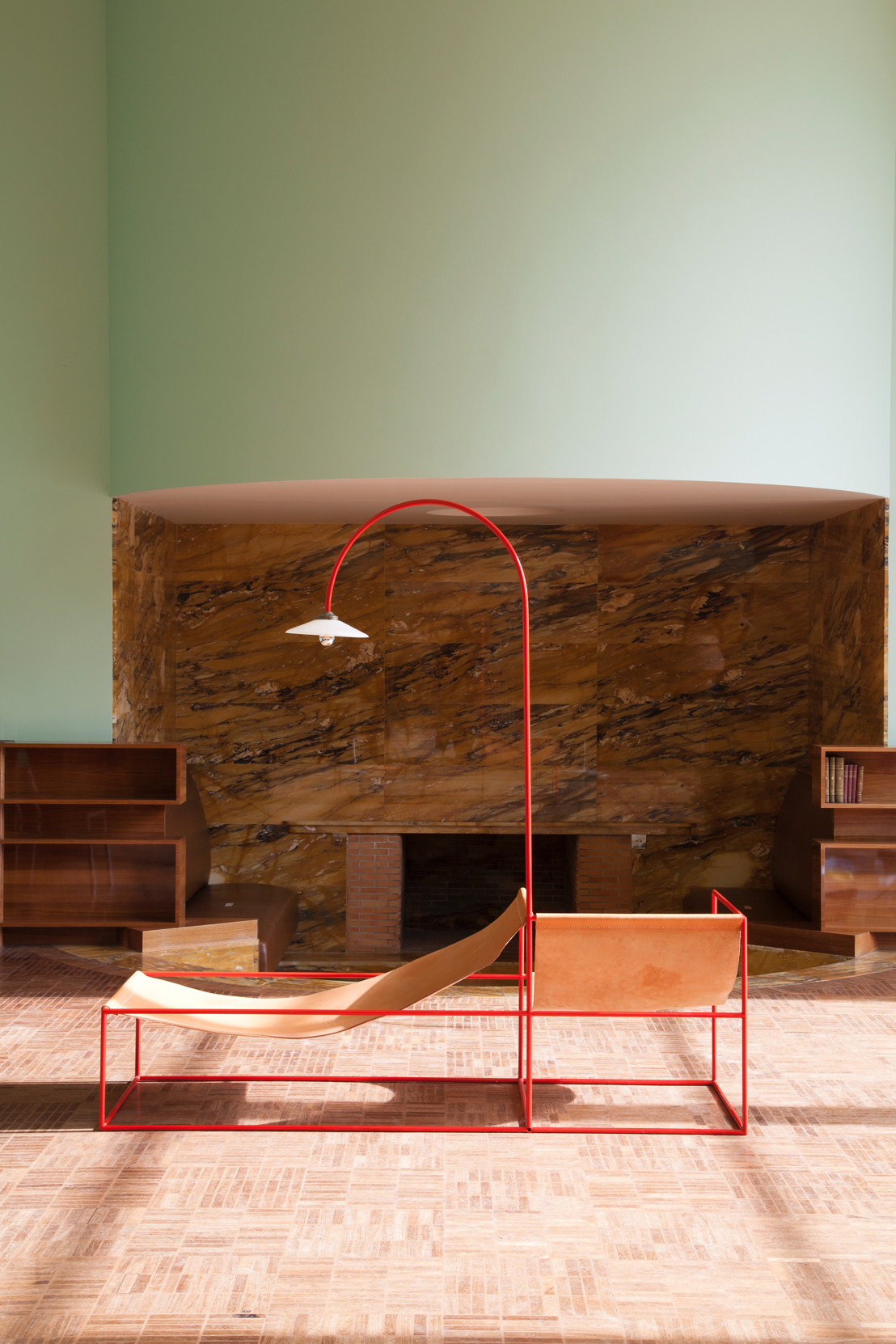 Muller Van Severen at Villa Cavrois as of 16 June
Lille Métropole 2020 Capitale Métropole du Design
Monday 25 May 2020 — As part of Lille Metropole 2020, World Design Capital, the Belgian duo Fien Muller and Hannes Van Severen are invited to the iconic Villa Cavrois for an exceptional exhibition. Inspired by the modernist masterpiece by architect Mallet-Stevens, they present a selection of their oeuvre, including their brand new ALLTUBES series, carefully set up in the different rooms of the modern castle. A new piece 'sofa cavrois' was designed especially for this occasion. 'Design ! Muller Van Severen at Villa Cavrois' runs from 16 June to 31 October at Villa Cavrois.
The discovery of the Villa Cavrois was a real revelation for Muller Van Severen, as Mallet-Stevens' masterpiece resonates so closely with the world of the designer couple. This exhibition presents a rigorous selection of furniture and objects, sometimes created especially for the event, which dialogue with the modern 'Château de Croix', thus affirming a little more its astonishing contemporaneity.
Muller Van Severen have made a reflection with their objects in the Villa Cavrois story. They aspire to stay as close to the architecture as possible, without losing their own identity or presence. They want to show their objects in harmony with their surroundings, not as strange entities.
"Time becomes irrelevant in this project, as we want to create the poetic feeling that our objects could originate from the same time as the building. In the same way that the building itself feels very contemporary." - Fien Muller and Hannes Van Severen
'Design! Muller Van Severen at Villa Cavrois' includes the new 'sofa cavrois' that was conceived especially for the exhibition. It is the first sofa that Muller Van Severen have ever designed. The sofa refers to the visual language of the wire s# series but has a totally different finish and feel. Where the wire s# are open and transparent, this sofa is closed as it were by the use of the warm green linen fabric, emphasizing its unusual form. It is a sculptural piece on elegant brass legs, designed for the interior. 'Sofa cavrois' urges people to sit really close together without really sitting next to each other.
Also on view in this exhibition is Muller Van Severen's very recent new series ALLTUBES. With ALLTUBES they start from the material itself, in this case the aluminium tube. A new universe emerges from tubular constructions. The approach is always the same: start from an element to exploit its potential; see how far one can go with it. In the case of the cabinets, the repetitive rhythm of the pipes placed next to each other - causing undulations - makes you forget the coldness of the material. In the bench and the chair, bending the material softens its hardness.
PRACTICALITIES
Exhibition presented at the Villa Cavrois from 16 June 2020 to 31 October 2020. This exhibition is generously supported by Meert Tradition, the Cambier brewery and Square Meters Paris.
Villa Cavrois
60 Avenue du Président John Fitzgerald Kennedy
59170 Croix
Tel. : +33 3 20 73 47 12
ABOUT Villa Cavrois
An architectural manifesto, Villa Cavrois, the work of architect Robert Mallet-Stevens, a figure of the modernist school, was designed and built in Croix between 1929 and 1932 for Paul Cavrois, a textile industrialist from the Nord department, and his family.
Listed as a historical monument in 1990 thanks to citizen mobilisation, and acquired by the State in 2001, the huge restoration project implemented in 2003 by the DRAC Nord-Pas-de Calais and then taken over by the Centre des Monuments Nationaux in 2008 will be completed in 2015.
Learn more via this link
ABOUT Muller Van Severen
Muller Van Severen was founded in the early Spring of 2011. With both Fien Muller and Hannes Van Severen being artists, it's natural that the collection sits somewhere between design and art. The couple has been on an inspired quest for sculpturally interesting furniture objects, always including the space around it, and characterized by a careful research into their shared passion for art, architecture and materials. At the same time Muller Van Severen's designs appear to be created almost intuitively and with total effortlessness. It looks as if the designers draw with crayons in space.
After winning countless awards and collaborating with prestigious museums (such as Vitra Museum, Centre Pompidou and Musée d'Art Decorative Paris) and galleries (Galerie Kreo, Side Gallery, Valerie Traan Gallery) worldwide, Muller Van Severen is considered to be one of the most image-defining European design teams of today. Their creations are globally identified in both private homes and public spaces.
All of Muller Van Severens own production pieces are handmade by small-scale fabricators and skilled artisans, with an honesty to the rawness and irregularity of the chosen material.