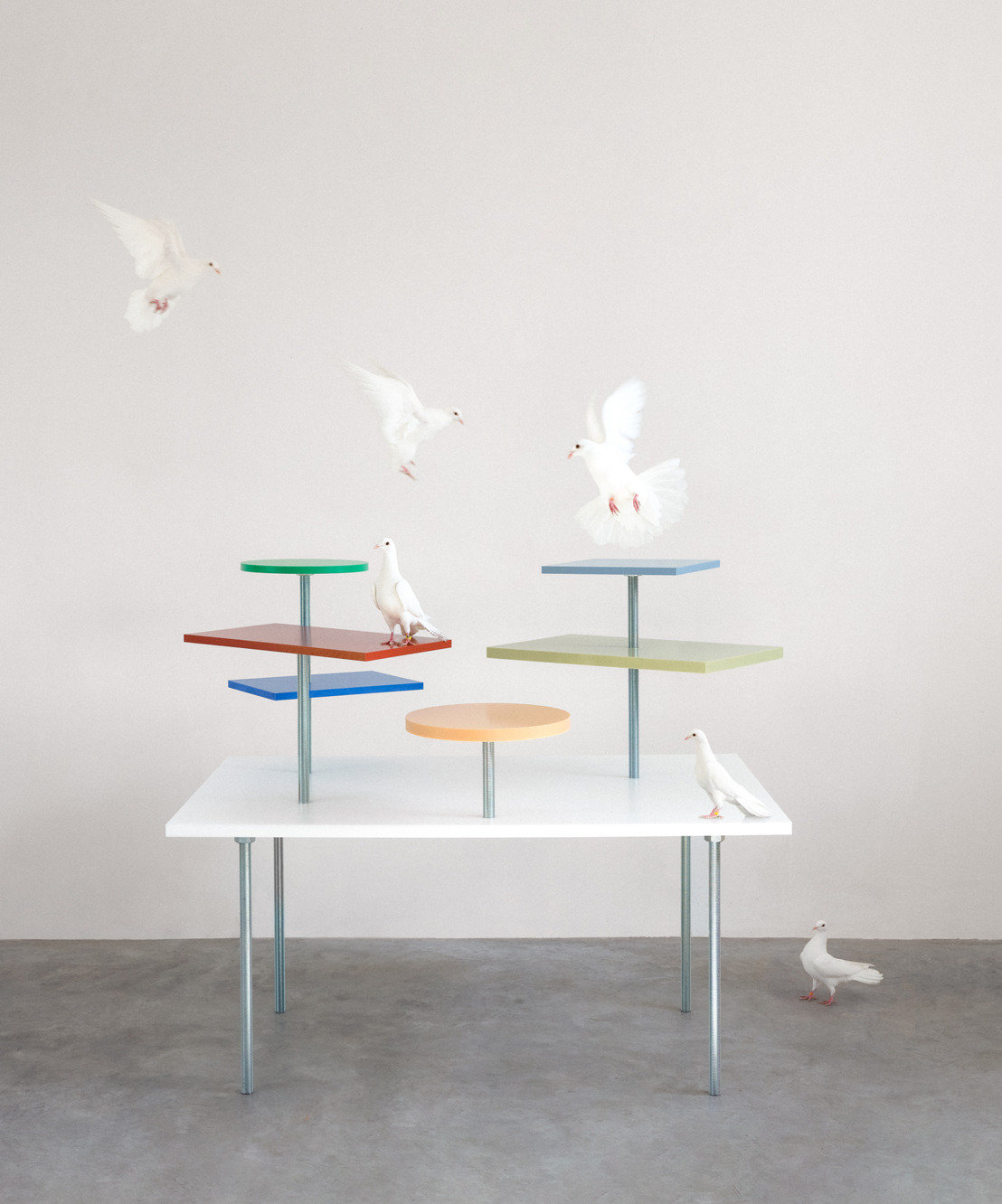 Laila Gohar x Muller Van Severen
The Pigeon Table
Laila Gohar and Muller Van Severen present a collaboration that was initiated by a mutual enthusiasm and interest in each other's work and which results in the presentation of 'The Pigeon Table'. The Pigeon Table by Laila Gohar x Muller Van Severen will be presented during the Salone del Mobile in Milan in June 2022.
​
​The piece is inspired by a conversation around mud brick pigeon houses in Egypt, Laila's homeland. By very intuitively sending things -images, drawings, ideas- back and forth, the eventual design came to live.
​
​It is difficult to describe in words what binds the two parties, because it is mainly an expressive connection. It is the love for authenticity, everydayness, a form of banality that can be ingenious, the rudimentary, the techniques…
"The Pigeon Table is an object made out of love for food and service, being together, conviviality and the pleasure of dining. It is an invitation to our world, our party, a dinner with an ode to what brings us together. Although we have never met in real life we feel we have been sitting at this table for years."
The Pigeon Table by Laila Gohar x Muller Van Severen will be presented during the Salone del Mobile in Milan in June 2022. By appointment only.
The Pigeon Table by Laila Gohar x Muller Van Severen
​Version : 1
​Edition : 20
​Price : € 8500
​
​The table is made out of galvanised steel and polyethylene
​
​Available through mullervanseveren.be and lailagohar.com
ABOUT LAILA GOHAR
As the most ancient carrier of culture, food can be utilized as an ice breaker which allows people to come together and bond over an intimate moment in time. Laila Gohar designs unique eating experiences that take place in non-traditional settings all over the world. Using food as both an artistic medium and a tool for communication, she explores the nature of human interaction by creating convivial, multi-sensory edible events. Her work draws upon historic methods of food preparation, and as a whole, food's role in society.
Laila's studio creates installations and pop-ups in conjunction with art, design and fashion events. She is based in New York City and works internationally.
ABOUT MULLER VAN SEVEREN
Muller Van Severen was founded in the early Spring of 2011. With both Fien Muller and Hannes Van Severen being artists, it's natural that the collection sits somewhere between design and art. The couple has been on an inspired quest for sculpturally interesting furniture objects, always including the space around it, and characterized by a careful research into their shared passion for art, architecture and materials.
​At the same time Muller Van Severen's designs appear to be created almost intuitively and with total effortlessness. It looks as if the designers draw with crayons in space.
After winning countless awards and collaborating with prestigious museums (such as Vitra Museum, Centre Pompidou and Musée d'Art Decorative Paris) and galleries (Galerie Kreo, Side Gallery, Valerie Traan Gallery) worldwide, Muller Van Severen is considered to be one of the most image-defining European design teams of today. Their creations
​are globally identified in both private homes and public spaces. All of Muller Van Severens own production pieces are handmade by small-scale fabricators and skilled artisans, with an honesty to the rawness and irregularity of the chosen material.
Lies Vangeel PR Agent, VonYellow