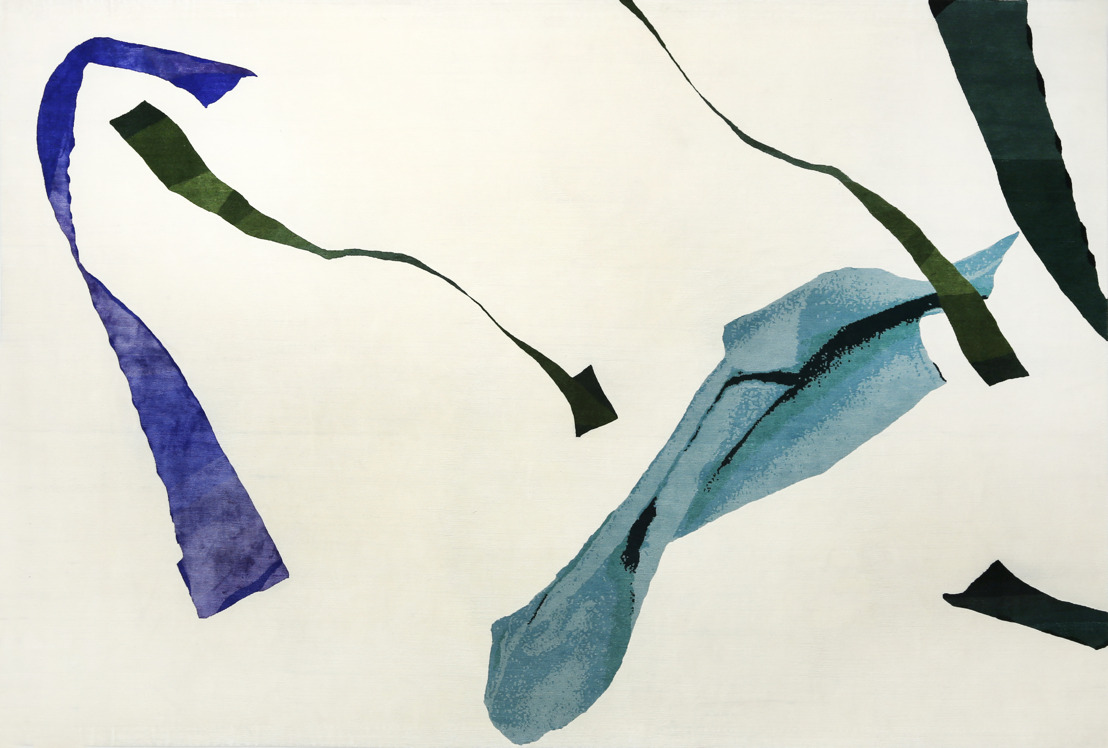 Muller Van Severen at Biennale Interieur Kortrijk
Friday 30 September 2016 — The 25th edition of biennial design event Biennale Interieur Kortrijk, curated by architectural firm OFFICE Kersten Geers David Van Severen, will be showcasing four beautiful projects by Belgian design duo Muller Van Severen. Solo Houses 'Interior', part of the curatorial programme of Biennale Interieur, will be presenting three exclusive designs from the latest 'wire s #' collection, in colours specifically conceived for the Solo House. Valerie Traan Gallery will be exhibiting the 'wire s #' collection in all its splendour, along with Muller Van Severen's first ever rug, created in collaboration with carpet company Ashtari. Belgian design label valerie_objects will be displaying the aluminium chairs the duo created for the brand. And finally, you will also find Muller Van Severen in a retrospective exhibition of 25 editions – or 50 years of – Biennale Interieur Kortrijk.
1 I SOLO HOUSES INTERIOR
Muller Van Severen was invited to design the furniture and lighting for one of the Solo Houses, a prestigious architectural project consisting of 12 architectural holiday homes south of Barcelona. The commission resulted in the creation of a series of functional sculptures and installations for the 'Solo House' by OFFICE Kersten Geers David Van Severen. The collection is called 'wire s #', with 'wire' referring to the material used (stainless steel wire mesh),'s' to seat/sculpture and '#' a playful nod to both the material used and the mesh count symbol.
In Solo Houses 'Interior', part of the curatorial programme of Biennale Interieur, you will be able to discover three designs from this 'wire s #' collection, in colours specifically conceived for the Solo House.
2 I VALERIE TRAAN GALLERY I HALL 4 STAND 480
Antwerp gallery Valerie Traan invited Muller Van Severen to create an interior with the latest 'wire s #' collection and Muller Van Severen's first ever rug 'carpet blue/green' (made in collaboration with carpet company Ashtari).
wire s #
'Interior' by Valerie Traan Gallery is proof that the 'wire s #' collection also works beautifully outside the Solo House project. The near transparent collection is suitable for both indoor and outdoor use and is made from wire mesh. Enjoy the collection in its variety of colours at the stand of the Antwerp gallery.
The discovery of this new – to us – material (stainless steel wire mesh with 2x2 cm holes), inspired and stimulated us to create a whole new world in which we designed landscapes and sculptures and where colour also has a place. We love that these pieces of furniture have to be dressed first by the user with plaids, blankets, sheepskin rugs ... – Hannes Van Severen
For more information and high-resolution images of the 'wire s #' collection, click on the link below: here
carpet blue/green
'carpet blue/green' is the first ever rug created by Muller Van Severen. The hand-knotted two-by-three-metre rug was made in collaboration with famous Antwerp carpet company Ashtari. The design is a collage of still lifes from Fien's photographic work, which Fien and Hannes arranged into a new composition. Eight copies and two 'artist's proofs' were produced of the rug, which is a genuine technical tour de force.
The process of colour selection, choice of materials and interpretation of the design was incredibly complex. More than 40 different colours were manually incorporated by experienced weavers on vertical looms in carpet workshops in Nepal. Three different raw materials were used.
Tibetan highland wool for a more matte effect
Cashmere silk for a shiny effect
Pashmina wool for an extra white and soft effect
Pashmina wool feels very soft and is whiter by nature. The whiteness heightens the contrast with the coloured areas. The 'gradient' in the blue section is in natural silk and brings energy and vitality into the design. The coloured woollen parts are more matte and richer in contrast, creating a harmonious, subdued effect.
A coherent variation of raw materials causes a change in the spectator's perception depending on the way the light hits the more matte woollen and shiny silk parts.
We are honoured to have had the opportunity to work with Hannes and Fien on this special hand-knotted rug. The project was born out of a mutual respect for each other's craft and character. Fien and Hannes' creative vision and passion appealed to us enormously. We have always admired their work and were curious to find out what their vision was of a hand-knotted rug. We were involved with the development of this rug in a technical advisory capacity, in terms of choice of materials and technical possibilities, and were happy to share our expertise with them. – Reza Ashtari
Ashtari is a contemporary carpet company in Antwerp. A company where inspirational meetings take place. An environment where craft and artisanship, beauty and originality intersect and have their permanent place. A space which houses contemporary, decorative floor coverings, as well as rare antique collector's pieces. Ashtari was founded by Ata Ashtari in 1969, who passed on the business to his son Reza.
Ashtari values fair and responsible trade with carpet workshops in the countries of origin. Most of these workshops are members of human rights organisations that protect the well-being of the employees and are opposed to child labour. Fair trade with sustainable, handcrafted products.
Design: Muller Van Severen
Production: Ashtari
Dimensions: 300 x 200 cm
Limited edition: 8 pieces + 2 artist's proofs ​
Use: floor and wall
Price available on request
Production and materials
150 knots/inch 2 (+/- 232,000 knots/m2)
Materials: (sheep's) wool, cashmere silk (silkworm), pashmina (goat's) wool
Technique: Tibetan knot
Pile height: 4 mm
Production time: 14 weeks
Available at Valerie Traan Gallery
info: +32 475 75 94 59
[email protected]
3 I VALERIE_OBJECTS I HALL 6 STAND 622
Belgian design label valerie_objects will be exhibiting the aluminium chairs (alu chair) created by Muller Van Severen for the brand at its stand in Hall 6.
valerie_objects is an initiative of Axel Van Den Bossche, Frank Lambert and art director Veerle Wenes (Valerie Traan Gallery). The label creates its collection by entering into collaboration with designers, architects and artists. The aim is to translate the works of these creative minds into tangible objects. The emphasis is always on authentic thinkers, on pieces that were carefully conceived and were designed and produced by clever hands.
4 I 25 EDITIONS OF BIENNALE INTERIEUR EXPO I KORTRIJK
Exhibition on the history of Biennale Interieur. An overview of 25 editions of Biennale Interieur, depicted through pieces from collections of Stichting Interieur, Design Museum Gent and the Art & Design Atomium Museum in Brussels. The exhibition runs from 2 October to 23 October at the VOKA building designed by OFFICE Kersten Geers David Van Severen, curators of Biennale Interieur 2016.
The exhibition will be displaying works from the 'Future Primitives' collection by Muller Van Severen, with which they created a furore at Biennale Interieur in 2012.
ABOUT BIENNALE INTERIEUR KORTRIJK 2016
Biennale Interieur is a design event with a hybrid mix of commerce and culture, that has been organised in Kortrijk, Belgium, since 1968. For the 25th festive edition, curators and architects OFFICE Kersten Geers David Van Severen -in partnership with visual artist Richard Venlet and graphic designer Joris Kritis- will create a 'Silver Lining' structure throughout the show and dot the exhibition halls with 'Interiors' created by a string of international designers, curators and architects. 'Solo House', part of the 'Interiors' installations, will unite the work of OFFICE, Muller Van Severen and others.
The backbone of the Biennale Interieur are the 200-plus selected contemporary design and interiors brands. The event also features showcases for international young design talent, the 'Interieur Awards' winners and the Belgian Designer of the Year Competition.
For more information and images, contact [email protected]